Skip to Content
In-Room Dining
From traditional breakfast favorites to dinner and bedtime snacks, we invite you to savor our exquisite cuisine in the comfort and privacy of your guest room or suite.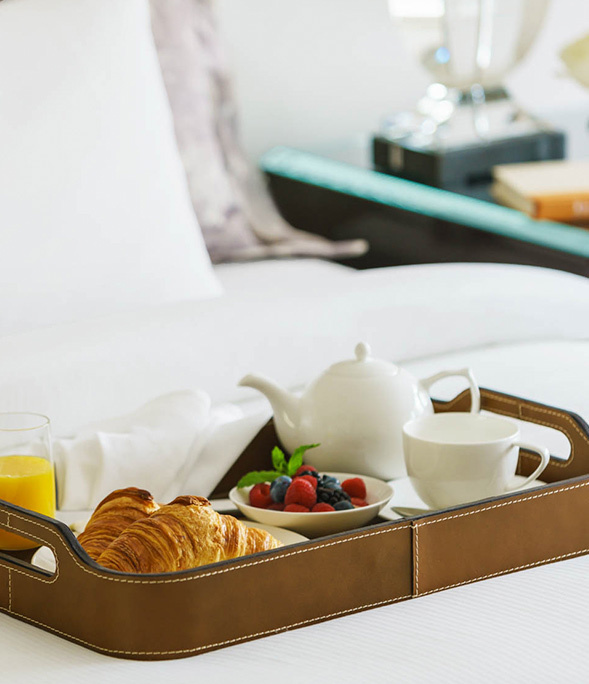 Hours of Operation
Breakfast: 6:30 am - 12:30 pm
Dinner: 5:00 pm - 10:20 pm
Late Night: 10:30 pm - 2:00 am
Menus

In Room Dining

"Touch" Ext. 3

Complete Breakfast Served with choice of juice, seasonal fruit, and coffee or tea.
CONTINENTAL
$38.00
house baked breakfast pastries, preserves and butter
AMERICAN
$55.00
two eggs any style with potatoes, bacon or sausage, choice of toast
DETOX
$41.00
oatmeal with chia seeds, fresh berries, Greek yogurt, cold-pressed green juice, ginger tea
NEW YORK BAGEL
$45.00
Gold label Catskills smoked salmon, onions, tomatoes, capers, choice of bagel
YOGURT & GRANOLA
$45.00
house made granola, mixed berries
BREAKFAST PLATES
VILLARD OMELETTE
$28.00
gruyere cheese, sautéed spinach, tomatoes, roasted breakfast potatoes
SHAKSHOUKA
$32.00
lamb merguez sausage, poached egg, roasted tomato, feta cheese, baguette
AVOCADO TOAST
$33.00
toasted seven-grain, poached egg, crispy chorizo, sofrito, heirloom tomatoes winter radish
LEMON MASCARPONE PANCAKES
$31.00
dulce de leche butter, berries, maple syrup
BRIOCHE FRENCH TOAST
$31.00
house-made mixed berry marmalade, Hudson Valley maple crème fraiche
FREE-RANGE CHICKEN SOUP
$18.00
egg noodles, carrots, celery
CAESAR SALAD
$24.00
romaine hearts, focaccia croutons, parmesan creamy anchovy dressing
add chicken +$12 | add shrimp +$16
VILLARD BURGER
$36.00
8oz prime beef burger, cheddar cheese, bacon, Villard sauce, house cut fries
RIGATONI BOLOGNESE
$35.00
beef and veal tomato ragu, parmesan reggiano
NY STRIP STEAK
$62.00
12oz certified angus beef, french fries, peppercorn sauce
GRILLED SALMON
$42.00
roasted garlic polenta, braised Tuscan kale, ginger citrus gremolata
GRILLED CHICKEN PAILLARD SALAD
$34.00
frisée, baby kale, watercress, Asian pears, cilantro & mint, crispy shallots, mandarin yuzu dressing
SHRIMP SCAMPI LINGUINE
$38.00
roasted garlic, lemon, fresh herbs
BRAISED SHORT RIBS
$45.00
egg noodles, caramelized onion, root vegetables, rib jus
CLASSIC TURKEY CLUB
$32.00
roasted turkey breast, smoked bacon, tomato, avocado, Boston lettuce, french fries, or salad
DESSERTS
CHOCOLATE CRÈME BRÛLÉE
$16.00
NY STYLE CHEESECAKE
$16.00
strawberry compote
ICE CREAM
$16.00
Tahitian vanilla, dark chocolate, strawberry sorbet
LATE NIGHT
FREE-RANGE CHICKEN SOUP
$18.00
egg noodles, carrots, celery
CAESAR SALAD
$24.00
romaine hearts, focaccia croutons, parmesan creamy anchovy dressing
add chicken +$12 | add shrimp +$16
VILLARD BURGER
$36.00
8oz prime beef burger, cheddar cheese, bacon, Villard sauce, house cut fries
RIGATONI BOLOGNESE
$35.00
beef and veal tomato ragu, parmesan reggiano
GRILLED SALMON
$42.00
roasted garlic polenta, Tuscan kale, ginger citrus gremolata
GRILLED CHICKEN PAILLARD SALAD
$34.00
frisée, baby kale, watercress, Asian pears, cilantro & mint, crispy shallots, mandarin yuzu dressing
FRIED CHICKEN TENDERS
$24.00
ginger garlic mayo, buttermilk, french fries
CLASSIC TURKEY CLUB
$32.00
roasted turkey breast, smoked bacon, tomato, avocado, Boston lettuce
SHRIMP COCKTAIL
$34.00
wild gulf shrimp, gochujang cocktail sauce
BRAISED SHORT RIBS
$45.00
egg noodles, caramelized onion, root vegetables, rib jus
BEVERAGES
COFFEE SERVICE
$18.00
organic roast coffee
ORGANIC TEA SERVICE
$15.00
assorted specialty teas
BOTTLED WATER
SM$10.00 LG$14.00
COLD-PRESSED JUICES
$15.00
a selection of Pure Green New York juices
ASSORTED JUICES
$14.00
orange, grapefruit, apple, cranberry
BEER
$14.00
Bud Light, Stella, Brooklyn Lager, Goose IPA
Please note that a 19% service charge, 8.875% New York State Tax and $14 delivery fee is added per order.
Consuming raw or undercooked meats, poultry, shellfish or eggs may increase your risk of foodborne illness