Blake and I met on hinge. It was a cold winter night and we made a plan to meet for drinks. I was coming from my work happy hour and he was coming from work. He had been working long hours because he is an accountant and it was tax season.

One drink led to two drinks and then three, but I kept myself together! As the night ended we didn't want to say goodbye. We kissed at the bar and as he was putting me in a cab to go home, we decided to watch a movie at his apartment. After the movie ended, I decided the right thing to do was to go home! However, as I was walking out of his apartment he kissed me goodbye AND as I was waiting for the elevator he came out and gave me another kiss. Clearly, neither of us wanted to say goodbye. Three days later we met for dinner again, and the rest is history!

I grew up in Manhattan so I always dreamed of a New York City wedding and Blake loved the idea as well. We visited many New York hotels in search of a venue to hold our wedding and as they say, Rachel had us at hello. From the moment we met her, her warmth and genuine confidence and affection for the venue came through. We could not imagine from the moment we met Rachel doing the wedding anywhere else. The Palace exemplified everything we were looking for as it's a truly iconic classy hotel.
"Neither of us wanted to say goodbye. Three days later we met for dinner again, and the rest is history."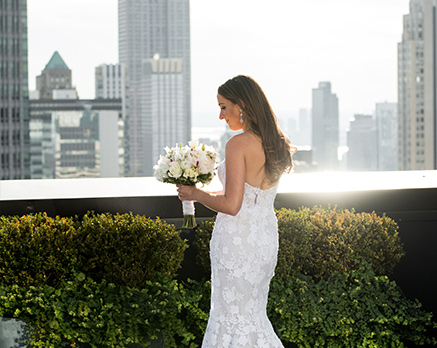 "My wedding at the Palace was magical"
The entire experience all weekend long from start to finish was one for the ages. We could not have been more pleased with the Hotel in every respect. Rachel was such a pleasure to work with and so helpful during the day and in the time leading up to it. She really functions as well as a wedding planner taking charge of every detail. We didn't believe that we could function without a wedding planner but she proved us wrong."
Vendors
Photographer: Felix at Fred Marcus Photography
Videographer: Joseph Edwards Films
Dress: Mira Zwillinger from Mark Ingram Bridal Atelier
Veil: Mark Ingram
Tuxedo: Giorgio Armani
Bride's Shoes: Manolo Blahnik
Groom's Shoes: Salvatore Ferragamo
Hair: Once Upon A Bride
Invitation: Julie Maloof Designs
Wedding Cake: Ron Ben Israel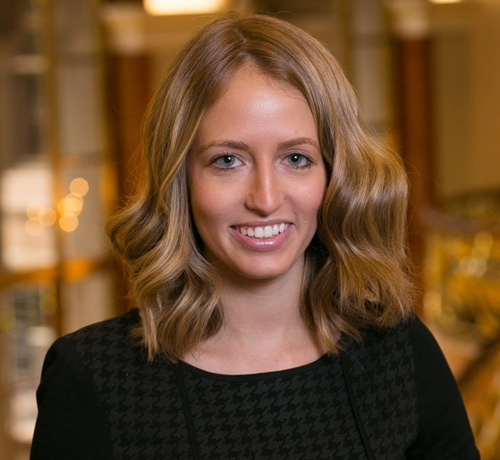 Meet Our Palace
Wedding Planner
Rachel Wolff
"From your very first interaction there is a trust that you gain with a bride and her family. It's a very sentimental decision that this family is making. It is almost like you are becoming part of the family for this exciting new chapter."