Health & Safety
Lotte New York Palace is committed to providing a clean and safe environment for both our guests and our employees.
We have collaborated with Dr. Robert Amler, a leader in public health with 25-years of experience in government health administration. Dr. Amler previously served as a Chief Medical Officer at the Centers for Disease Control (CDC) and is a field expert who has been widely sought after for his expertise on COVID-19 containment.
We are taking the following measures to ensure your safety and comfort:
GUEST ARRIVAL
All guests will receive a pre-arrival call from the hotel to ensure a swift arrival and check-in experience. This will include a review of your anticipated arrival time, your housekeeping preferences, and an opportunity to answer any questions that you may have. All guests will be asked to provide a mobile phone number so that we may communicate with you directly before and throughout your stay.
Plexiglass safety shields have been installed at all Front Desk terminals.
Upon arrival each guest will receive a welcome kit which contains two three-ply masks and two hand sanitizing wipes.
PUBLIC SPACE
Lotte New York Palace utilizes advanced practices to clean and sanitize high touch surfaces and areas, such as elevators, railings, doorknobs, and restrooms. The hotel uses only EPA approved disinfectants, which have been evaluated by the CDC as effective in killing germs and bacteria. Electrostatic sprayers are also being used to add an additional layer of sanitization throughout the hotel.
Touchless hand sanitizing units have been placed in all public areas of the hotel. Guests will be provided with individual sanitation kits which includes masks and disinfecting wipes.
Social distancing practices have been implemented throughout the hotel's public spaces, including the lobby, restaurants, bars, fitness center and elevators. There are markers at our reception and concierge desk to indicate safe distancing. Additional signage has been placed in public areas reminding guests to wear masks and practice proper distancing.
At this time we have temporarily suspended operations in our food and beverage outlets including mini bar. For a list of dining recommendations please visit here.
GUESTROOM SANITATION
During housekeeping service, a fresh set of cleaning cloths and gloves are utilized in each guestroom. Guestroom linen are washed at a high temperature and cleaned in accordance with CDC guidelines.
All hard surfaces including door handles, guestroom locks, light switches, TV remote control, temperature control panel, phones and hairdryer are fully sanitized prior to guest's arrival. We use multi-surface cleaners and disinfectants as recommended by the CDC to sanitize against COVID-19.
All in-room glassware throughout the hotel has been replaced with disposable and pre-wrapped cups. Guests will be provided with individual sanitation kits which include masks & disinfecting wipes. We have also temporarily suspended mini bar service and coffee pots are not available in guestrooms at this time.
For guests who do not wish to have daily housekeeping service, we are happy to provide additional towels and bath amenities upon request.
EMPLOYEE PROTOCOL
All employees are screened daily upon arrival to the hotel. Any employee who displays signs of illness will be sent home immediately in adherence with guidelines set by the Hotel Association of New York City.
All employees have been provided with personal protective equipment (PPE) along with uniforms which are laundered and issued on property, daily.
All hotel employees have been retrained in protocol for sanitation and personal hygiene in adherence with the CDC and the Hotel Association of New York.
STAY WELL NYC PLEDGE
As a proud member of the hospitality community, Lotte New York Palace is committed to honoring the Stay Well NYC Pledge. We are dedicated to building a safe environment for those who live here, those who work here, and all who visit. To learn more, click here.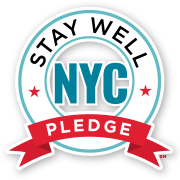 COVID-19 Travel Advisory
The state of New York has joined with New Jersey and Connecticut in jointly issuing a travel advisory for anyone returning from travel to states that have shown a significant degree of community-wide spread of COVID-19. If you have traveled from one of the designated states with significant community spread, you must quarantine for 14 days when you enter New York.
All out-of-state travelers from designated states must complete a Traveler Health form upon entering New York. Travelers coming from these designated states through other means of transport, including trains and cars, must fill out the form online.
To access the Traveler Health Form and the list of states and territories that meet the criteria for required quarantine, please visit here.
Should you have any questions or concerns before, during, or after your stay, please contact Martin Mariano, Hotel Manager, at 212.303.6058 or mmariano@lottenypalace.com.